Posted by
admin
on Sep 26th, 2015
2273 Views
We are biggest toilet seat cover mould maker, we offer SMC toilet cover mould, SMC toilet seat mould, plastic toilet cover mould,plastic tolilet seat mould,we can design toilet cover mould with humanized and high efficiency moulds.
Usually, for plastic toilet seat cover mould material is PP,PE, but considering they are easy to break and short life for user, so SMC,BMC plastic material are popular in plastic toilet seat cover manufacturer, most of t plastic toilet seat cover supplier will choose SMC or BMC to produce this product.
For SMC,BMC toilet seat cover they are making process through high temperature pressing molding, this plastic material are very hard, so the pressing mould material also need high hardness, the steel for MC,BMC toilet seat cover mould we use 2344,H13, etc.. it will be  increase the wear-resisting and corrosion preventive for toilet seat cover moud, and  mould will do chromeplate, after chromeplated the hardness of the surface of steel can arrived t HRC65.
SMC,BMC toilet seat cover mould need oil temperature controller to control high temperature when the pressing molding, usually the mould temperature around 180 ℃.
Welcome to zhilian mould company, we have high standard management system for making high quality standard SMC,BMC toilet seat cover mould, our rich experiences team will help you to building a high efficiency toilet seat cover molding production line, we offer you the best SMC,BMC mould solution.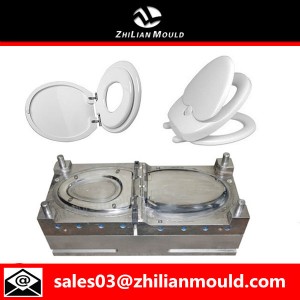 Posted by Margaret
Email:sales03@zhilianmould.com
Whatsapp:15137640178
SKYPE ID:759491603
Web: www.zhilianmould.com