Posted by
admin
on July 31st, 2015
2924 Views
Plastic pallet mould is a mold for manufacturing plastic pallet. Zhilian mould is a company specializing in the production of plastic injection molds.
Plastic pallet mould is a molding method commonly employed, it applies to all thermoplastics (thermoplastic: in particular The temperature range can be repeatedly heated and melted and cooled and cured a class of plastics, such as ABS, PP, PE, PC, PA, POM) and some thermosetting Plastic, Zhilian mould company , most of the plastic parts are made by injection molding. Injection molding molding cycle is short (a few seconds to a few minutes), the quality of Zhilian plastic pallet mould products by a few grams to several kilograms, to forming a complex shape, size, precision, with a metal or Non-metallic insert moldings member. Thus, the method adaptable, high production efficiency.
plastic pallet mould production, although strong, the total production of living in the world's third, but the design and manufacturing standards are better than other mould company.Currently, Zhilian plastic pallet mould the creation of an average about $ 10,000, compared to $ 15 million to 300,000 die industrialized countries, plastic pallet mould showing China's industrial plastic pallet mould high quality production of high value-added products . Which, is a large, sophisticated, complex, long-life mold, it occupies only about 50% of the total.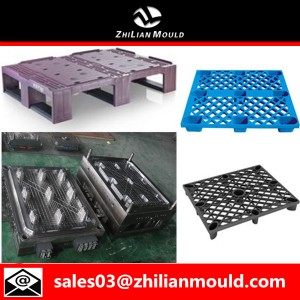 Posted by Margaret
Email:sales03@zhilianmould.com
SKYPE ID:759491603
Web:http://www.zhilianmould.com