Posted by
admin
on Apr 27th, 2017
3372 Views
Detail information for plastic helmet mould supplier
Product name:plastic helmet mould
Size:224*300*162mm
runner system:cold runner or one point hot nozzle
Steel: P20,718,718H,H13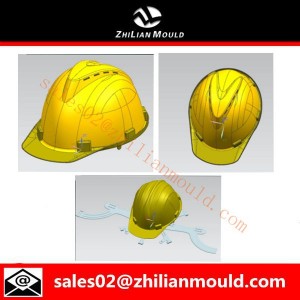 This helmet mould was combine by 3 pieces,one is the big helmet shell,this is main body of this plastic helmet mould projects. Another two is a small pieces inside the shell.
plastic helmet shell mould usually use 1 point Chinese hot nozzle to do it.And another two small pieces use cold runner is more good solution.
When we make plastic helmet mould design,considering this plastic safety helmet will be need use in summer time,we add some air hole on the surface of helmet.
For the helmet mould drawing,we design a very good cooling system and ejector system for it. Finally this plastic helmet projects had smooth action when T1 trial.
Zhilian mould not only make plastic helmet mould,also make various of plastic injection mould. Plastic chair mould,plastic bucket mould,plastic pail mould,plastic dustbin mould,plastic pallet mould and so on.We discuss product design,mould design with customer.Before making mould,we check every details with you to avoid the mistake during the mould making period.
Supply best service,offer good mould,support strong mould technical is our aim.If you have any inquiry,welcome to contact us.
Website:www.zhilianmould.com
WhatsApp:+86-18989672496
Email: sales02@zhilianmould.com