Posted by
admin
on Jun 26th, 2015
3569 Views
Zhilian Mould is one of the professional bucket mould maker in China, we have make various liter of full automatic bucket mould, range from small 1 Liter to middle 20 liter or larger  liter bucket , from normal paint bucket to thinwall bucket mould, round or oval bucket .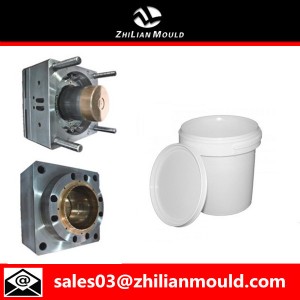 Here is one of our paint bucket
The cycle time :35s
Mould size : 700*700*700mm
Mould cavity and core

20
Gate type :  1 tip hot runner
Hot runner system : YuDo brand hot runner system.
Sometimes,we make copper–be on the top of bucket to make the cooling system better.so the bucket need short time on cooling, then the whole cycle time is much shorter than the normal which does not inserted with copper-be.
If the cooling is not equal in the different area of the bucket mould core and cavity, this will cause the differenence of the melted material. the colder area the flowance is smaller while the hotter area flowance will be bigger. then the hot area's bucket wall thickness will be thicker.
We are also professional thin wall bucket mould maker. if you have any question on your new bucket projects, please kindly contact with for more details.
Posted by Margaret
E-mail :sales03@zhilianmould.com
Skype:live:759491603
Web:http://www.zhilianmould.com