Posted by
admin
on July 4th, 2015
2885 Views
Paint bucket mould thickness its between home application used water bucket and thin wall container thickness, normally the thickness from 1.1-1.5mm. In our daily life, the HDPE bucket mould is very common in mould market.
As we know , for bucket product, the bucket wall thickness whether uniform its determined by the mould design it is good or not .
In the small volume bucket ,Zhilian mould company would like to machine the core straight into a plate, it means core and core plate in the one piece, rather than core insert in the plate, where after some time the core start shifting to the side, the wall thickness will be changed.
On the other hand. we make copper-be to ensure the bucket cooling system running better. As long as the cooling getting better, the cycle time will be shorter. we have made different liter of bucket for customers from all over the world. such as 1 liter, 5 liter, 10liter, 14 liter, 20liter.
Zhilian mould company is a professional bucket mould maker in Huangyan, China. If you have any new project on paint bucket mould. welcome to contact me.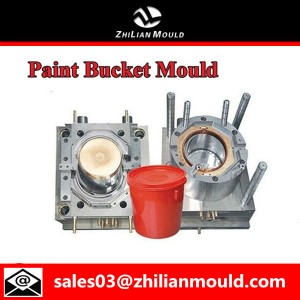 Posted by Margaret
Eemail:sales03@zhilianmould.com
SKYPE ID:759491603