Posted by
admin
on Jun 18th, 2015
2229 Views
The cavity and core give the molding its external and  internal shapes respectively, the impression imparting the whole of the form to the molding. We then proceeded to indicate alternative ways by which the cavity and core could be incorporated into the mould and found that these alternatives fell under two main headings, namely the integer method and the insert method. Another method by which the cavity can be incorporated is by means of split inserts or splits.
Integer cavity and core plates
When the cavity or core is machined from a large palte or block of steel, or is cast in one piece, and used without bolstering as one of the mould plates, it is termed an integer cavity plate or integer core plate. This design is prefeered for single-impression moulds because of the strength, smaller size and lower cost characteristics. It is not used as much for multi-impression moulds as there are other factors such as alignment which must be taken into consideration.
Of the many manufacturing processes available for preparing moulds only two are normally used in this case. These are (a) a direct machining operation on a rough steel forging or blank usingthe conventional machine tools, or(b) the 'precision' investment casting technique in which a master pattern is made of the cavity and core. The pattern is then used to prepare a casting of the cavity or core by a special process.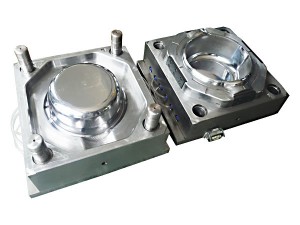 Posted by Mandy Tang
E-MAIL:  sales01@zhilianmould.com
SKYPE:  live:740851003
WEB:  www.zhilianmould.com  www.zlmould.en.alibaba.com